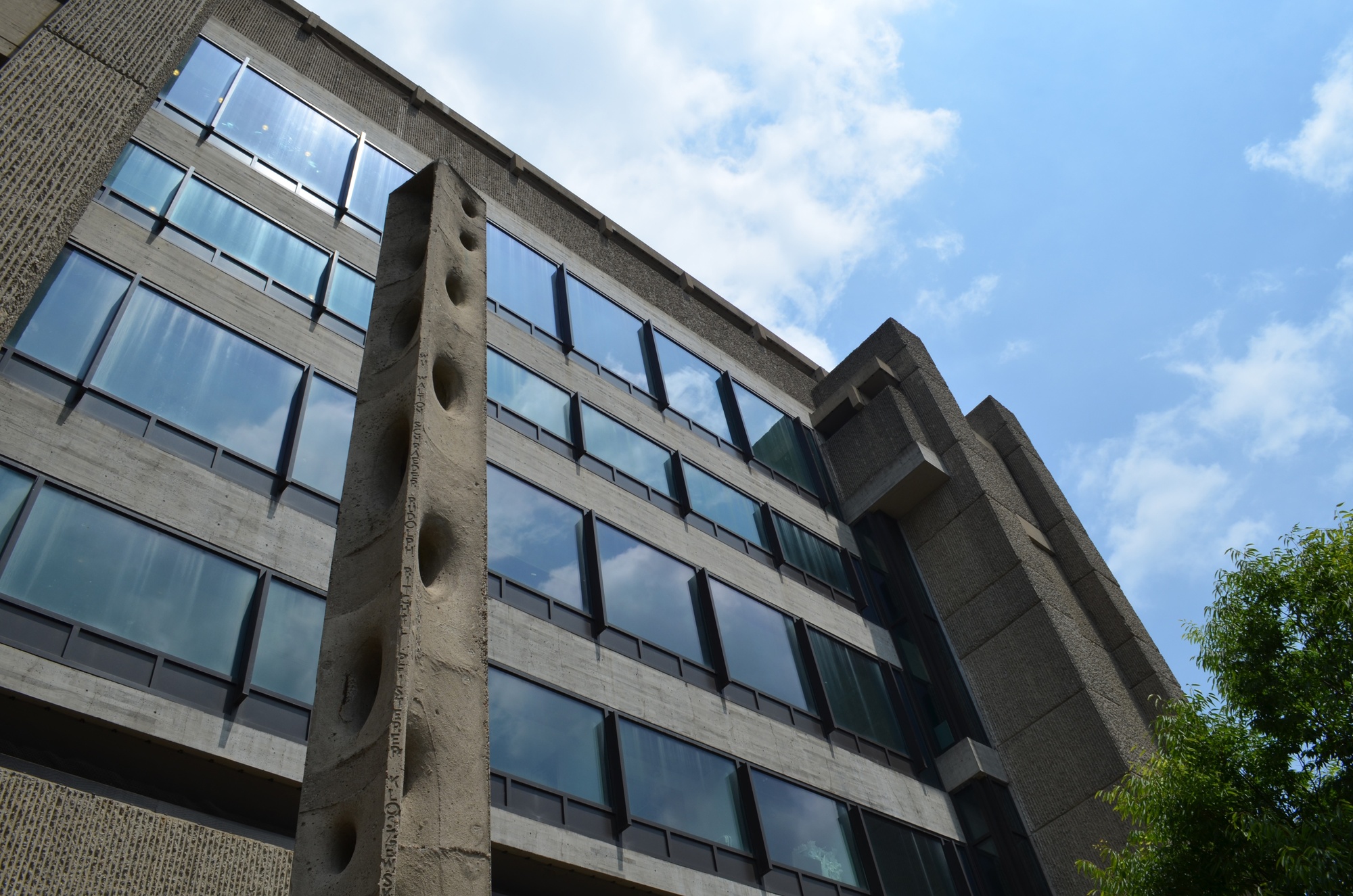 Application Deadlines
The admissions cycle for the 2023-2024 has concluded.
---
The post-professional degree program is for students already holding a professional degree in architecture (B.Arch., or an equivalent first professional degree) who seek a second, advanced degree and who are interested in pursuing cross-disciplinary design research that will expand their understanding of how the designed environment—interiors, buildings, cities and landscapes—is shaped by the intersection of broad cultural, political, economic, technical and environmental forces.
The Post-Professional Master of Architecture is granted to students already holding a professional degree in architecture (B.Arch., or an equivalent first professional degree). This degree is not accredited by the National Architectural Accreditation Board (NAAB) and does not fulfill the education requirement for licensure in those jurisdictions adhering to the requirements established by the National Council of Architectural Registration Boards (NCARB).
---
Mission
The post-professional design research program is founded on the premise that architects can contribute to addressing urgent global challenges by adopting a new way of working: design research. This involves forming cross-disciplinary collaborations to explore the spatial consequences of cultural, political and environmental issues. The post-professional M.Arch. II program equips a future generation of Yale graduates with a methodology that will prepare them to form constructive alliances with experts in allied disciplines, the outcome of which will yield viable design proposals that can be implemented on regional, local, and global scales.
Individual and Group Research
Our two-year core curriculum equips students with an advanced degree that builds upon their previous architectural training to pursue both group and independent design research. It consists of a sequence of two seminars that culminates in a Design Research Studio offered in the final semester of the program. Students work individually with faculty advisors to develop and execute a design research project that corresponds with their own individual interests. The core curriculum allows students to explore independently while working within a supportive environment that fosters interaction, dialogue, and a sense of common purpose.
Academic Freedom: Advanced Studios and Electives
With only three required courses, our program offers students considerable freedom to shape their own curriculum to develop an increasingly reflexive, critical, and speculative relationship to their work. During the first three terms, students choose through a lottery system from variety of Advanced Studios, taught by leading practitioners and theoreticians from around the world. These studios are the same ones offered to M.Arch. I students. Students also take elective course options offered by the School that fall into the broad categories of design and visualization, technology and practice, history and theory, and urbanism and landscape. In addition, they are encouraged to take classed offered by other Yale schools and departments within the University. At the beginning of each term, students meet with the program director and faculty advisors, to help them choose elective courses that support their general interests as well as relevant classes that support their Design Research proposals. Students are encouraged to also take courses offered by other Yale schools and departments.
Community
The relatively small size of the Post Pro student body (approximately 40 students in the two year program) coupled with the modest size of the School of Architecture allows our students to form a collective identity while immersing themselves in the wider YSOA community. Enrolling in the three required courses builds solidarity among M.Arch. II students. At the same time, Advanced Studios and elective seminars allow Post Pro students to engage with other YSOA students as well as students from other Yale departments.
Course of Study (Class of 2025 and Beyond)
In course titles, a designates fall term, and b designates spring term. The School reserves the right to change the prescribed course of study as necessary.
M.Arch. II: Total Requirement: 72 credits for classes of 2025 and beyond
First Year (Summer)
| | |
| --- | --- |
| 1062c, Resources for Design Research | 0 |
First Year (Fall)
| | |
| --- | --- |
| Advanced Design Studio | 9 |
| 3072a, Design Research I | 3 |
| Elective* | 3 |
| Elective* | 3 |
| | ___ |
| | 18 |
First Year (Spring)
| | |
| --- | --- |
| Advanced Design Studio | 9 |
| 3073b, Design Research II | 3 |
| Elective* | 3 |
| Elective* | 3 |
| | ___ |
| | 18 |
Second Year (Fall)
| | |
| --- | --- |
| 1121a, Design Research III: Independent Studio Part 1 | 9 |
| Elective* | 3 |
| Elective* | 3 |
| Elective* | 3 |
| | ___ |
| | 18 |
Second Year (Spring)
| | |
| --- | --- |
| 1121b, Design Research IV: Independent Studio Part 2 | 9 |
| Elective* | 3 |
| Elective* | 3 |
| Elective* | 3 |
| | ___ |
| | 18 |
*Students not on academic warning or probation may substitute independent elective course work. (See the School's Academic Rules and Regulations for procedures and restrictions.)
Required Core Courses for Class of 2023 and 2024
3072a Design Research I: Cross-disciplinary Perspectives
3 credits.
This seminar introduces students to Design Research, a practice dedicated to conducting cross-disciplinary research that explores the spatial consequences of urgent cultural, political, economic and environmental issues. The class is divided into four topics, each taught by one of four faculty members, dedicated to investigating a different global challenge through analytical perspectives being employed by leading interdisciplinary scholars and designers.
3073a, Design Research II: Methods Workshop:
3 credits.
In this workshop students develop and refine the initial research proposal that they submitted at the end of Seminar 2. Though weekly required reading and assignments, students become acquainted with key research methods that will allow them to craft a fully developed Research Script, a illustrated document that assembles materials that will form the basis of their design work in the Design Research 4 Studio the following term. Not required for students who will graduate in 2023.
30745b Design Research III: Independent Studio
9 credits
Students meet on a weekly basis with faculty Advisors to develop the Design Research Script that they developed in the Methods Workshop. The class is coordinated by the Post Pro Director who works with Faculty Advisors to establish shared milestone assignments, including midterm, ¾ and final reviews.
Summer preparation courses for incoming M.Arch II students
In the three weeks before the beginning of the fall term, the School offers an integrated set of preparatory workshops required for incoming M.Arch. II students.
Summer Shops Techniques Course. This one-week course introduces incoming students to the School's fabrication equipment and shops. The course stresses good and safe shop techniques. Students are not allowed to use the School's shops unless they have satisfactorily completed this course.

Summer Digital Media Orientation Course. This two-part workshop, which occurs during the same week as Summer Shops Techniques, covers accessing the School's servers, the use of the School's equipment, and the School's digital media policies and procedures.

Arts Library Research Methods. This ninety-minute session covers various strategies to answer research questions pertaining to course curricula and topics by using tools such as the Yale University online catalog, architecture databases, image resources, print resources, and archival resources.
In addition to the 72 satisfactorily completed course credits, a student must satisfactorily complete the portfolio requirement (as described under Academic Regulations in the chapter
Life at the School of Architecture
) in order to receive an M.Arch. degree. The portfolio requirement is administered and periodically reviewed by the Design Committee.
Academic rules and regulations
Procedures and restrictions for the M.Arch. II program can be found in the School's "
Academic Rules and Regulations
" section of the
School of Architecture Handbook
.